Now go to https://jenkins.example.com (remember to use the DNS hostname that you setup here)
and we should finally see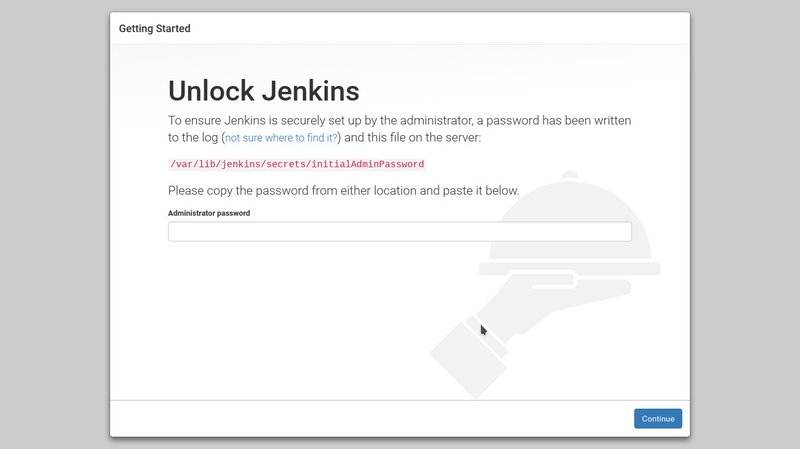 You are now ready to continue on setting up Jenkins inside its web interface as described inChapter 24 just use https://jenkins.example.com (your full hostname) instead of jenkins.example.com:8080 (in fact this should not connect because we have it firewalled off early on in this document)
Once you're finished following the instructions at http://www.obeythetestinggoat.com/book/chapter_CI.html come back here for more.
Github integration:
install the following extra plugins:
Github Integration
Github Autostatus
choose download and install after restart and then check the box to restart jenkins when it's done.
Authenticate yourself with the GitHub API
Go to Manage Jenkins -> Configure System and scroll down to Github then click on add github server: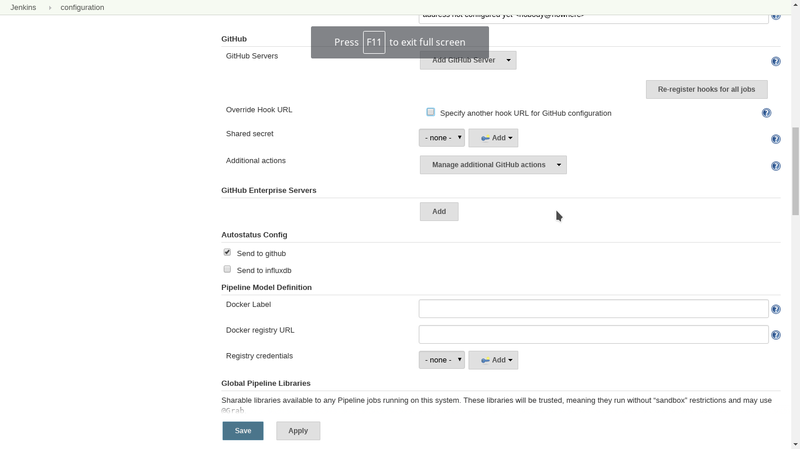 Click on Manage additional GitHub actions and select convert login and password to token. You will get this screen: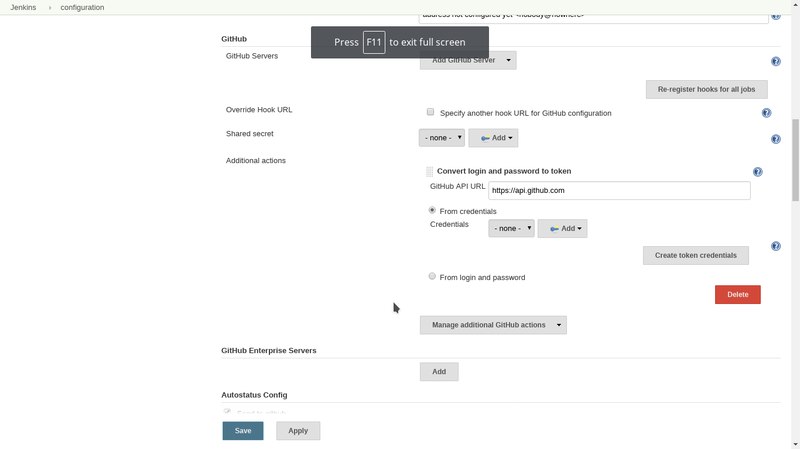 Click from login and password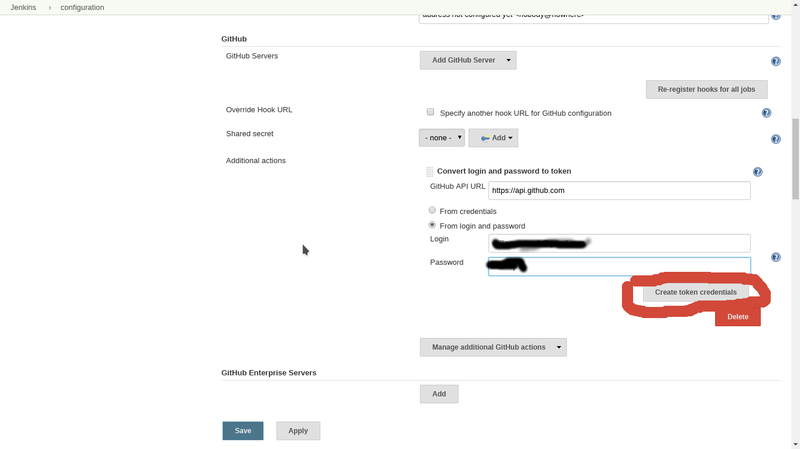 click create token credentials you should see this text appear in the current window.
"Created credentials with id xxxxxxx-xxxx-xxxx-xxxx-xxxxxx (can use it for GitHub Server Config)"
the Xs will of course be your unique ID.
Click apply and then go back to the main jenkins page and come back. You will want to click add Github server.
Select Github server and you will see a screen like this: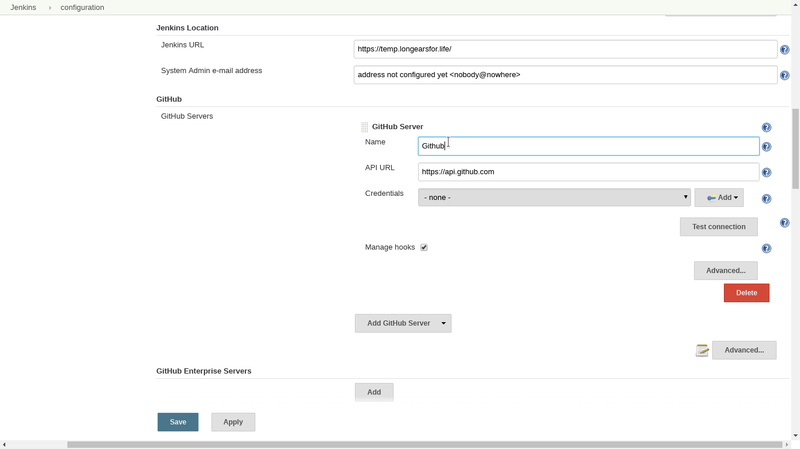 click on the credentials dropdown and select your github token and click on test
you should see a screen very much like this one: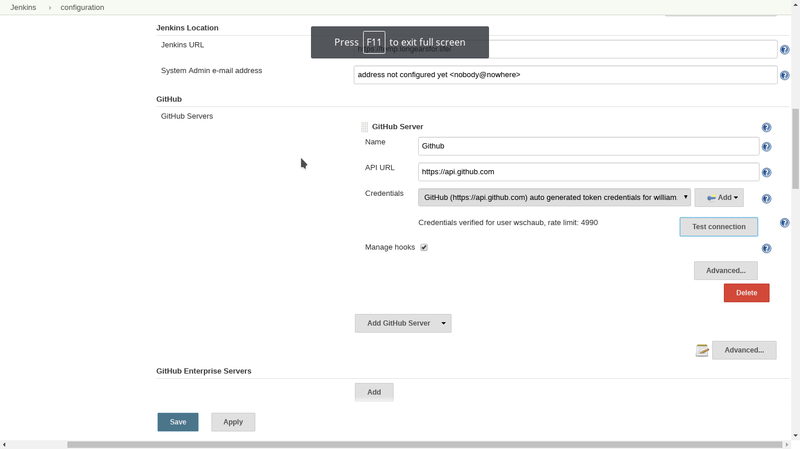 If it says the credentials are verified we are good to go. it will now be possible to send status reports to github for use in branch protection and other things. we will also be able to register webhooks automatically with github for triggering Jenkins builds immediately without the need for polling.
Add github integration to your superlists project
I'm assuming you've gone through the Chapter 24 setup instructions in jenkins so I won't repeat them here Instead I'm going to provide screenshots a a working superlists job config.
go to your project page in jenkins and check the mark next to GitHub project in General Then put the full URL to your github project in the Project url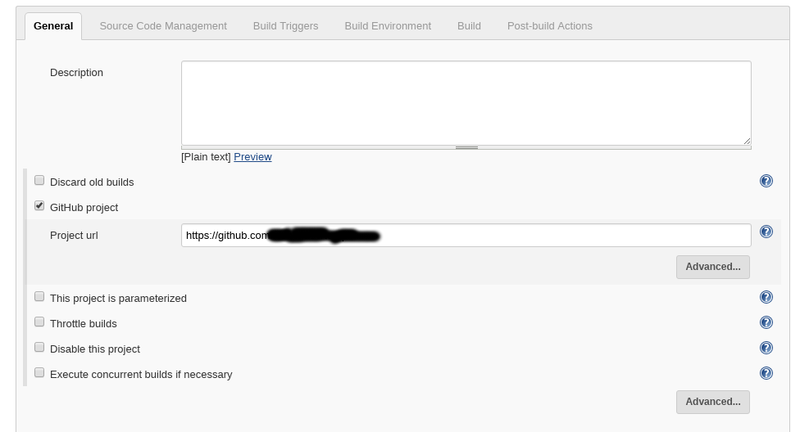 go to source code management and make the branch specifier blank. This will allow any branch to be built by jenkins in response to callbacks from the github webhooks (next step)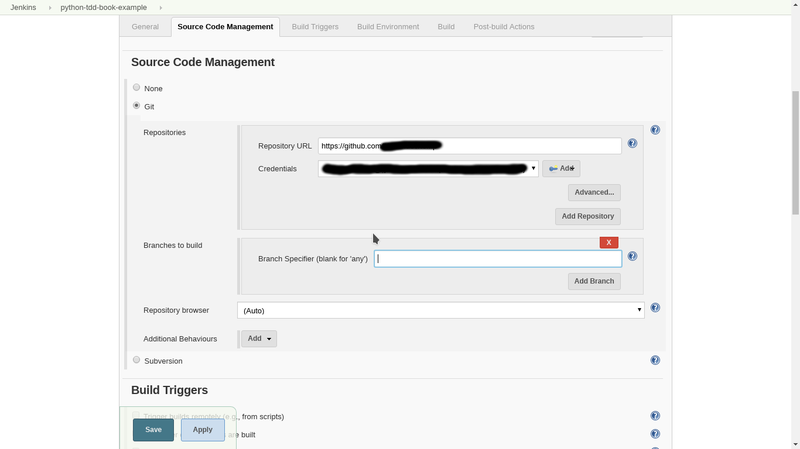 got to Build Triggers and check the box labeled GitHub hook trigger for "GITScm polling"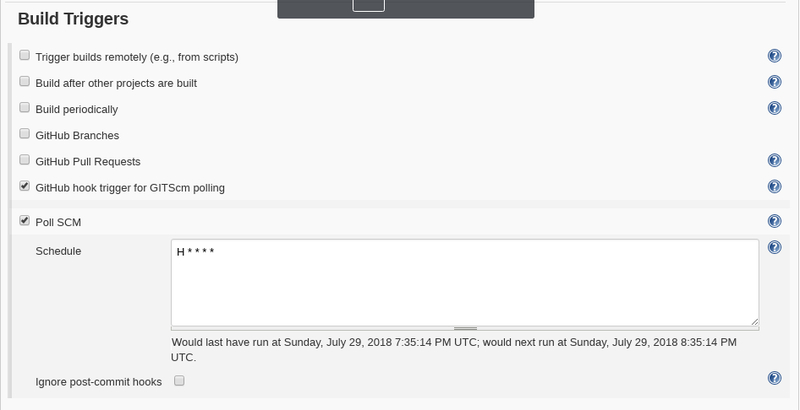 go to the Build section and click add build step. select "set status to "pending" on GitHub ..." then drag the new box that appears so that it comes before our virtualenv builder in the browser window. like this: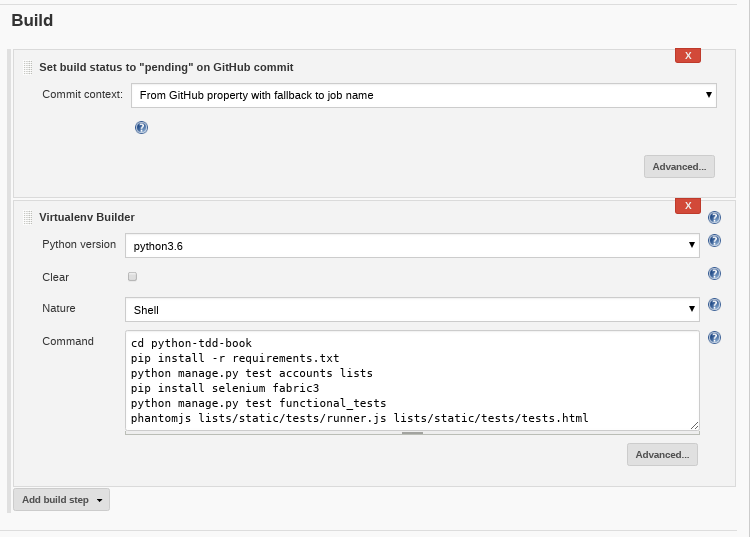 go to the post build actions section and click add post build action, then make it look like the screen below. (you will have to click advanced for the error handler stuff to show up) There's an easier option but it's deprecated.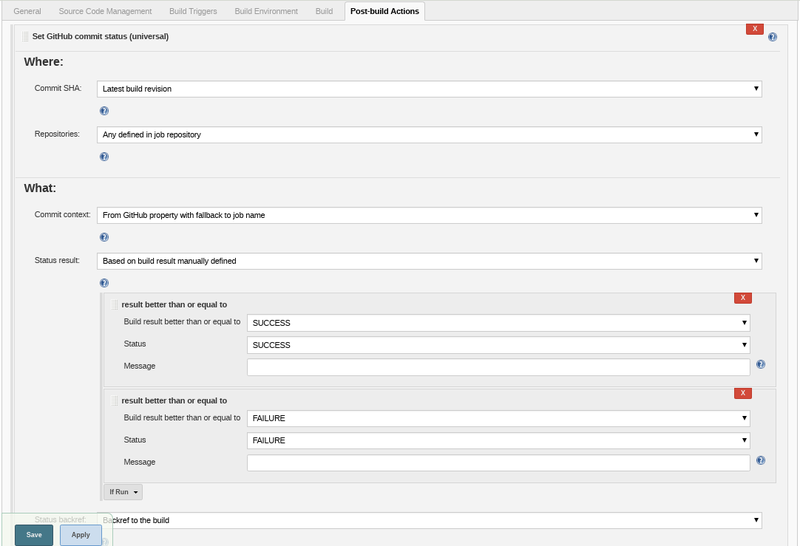 click save and manually kick off a build of your project in Jenkins.
Configuring the github side of things
Go to your github projects web page and then click on settings and then webhooks. If everything went well our jenkins server has registered a webhook for us that triggers on any push to the repo. (you can add other triggers but this is beyond the scope of this document and pretty easy to figure out anyway)

Setting up branch protection
The real benefit of integrating Jenkins to github is for implementing a protected master branch and using a branch and pull request workflow. pushing to branches causes Jenkins to send a status report to github which is required to pass in order for the pull request to be merged. For example:
Failed tests, can't merge pull request: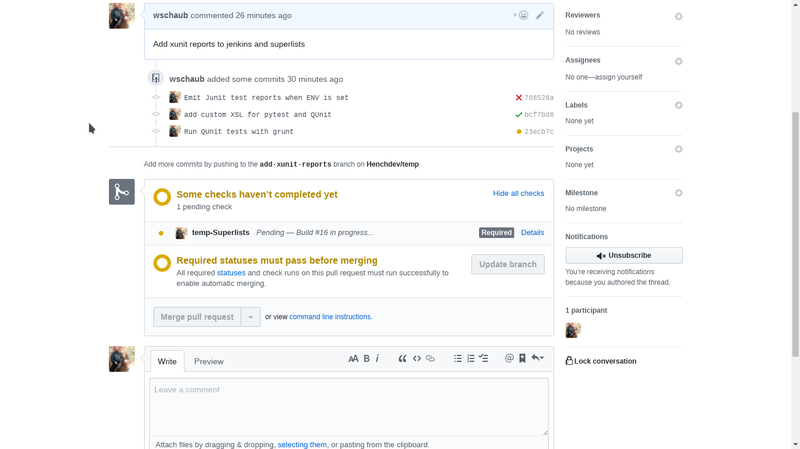 Passing tests, can merge pull request: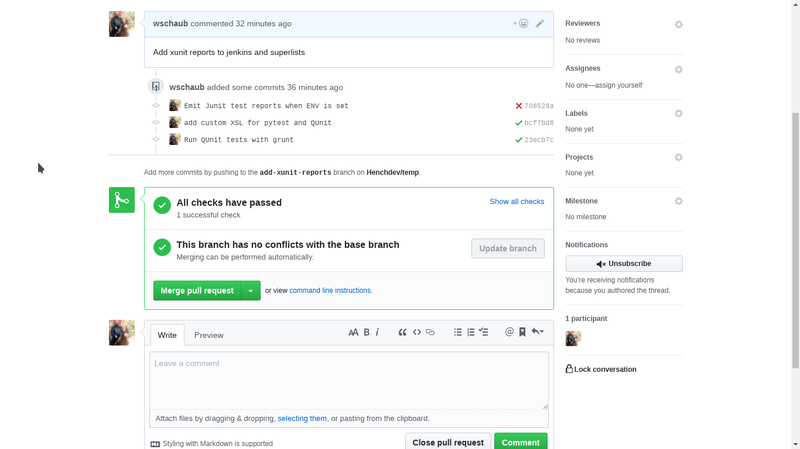 You can be directly linked to jenkins at any time by clicking on the yellow, red or green status marks next to the commits in the window. This gives you an opportunity to see what tests are failing or even fix problems with the Jenkins build definition that are causing the build failure. once you kick off a new build that works the status on that commit will change. (or if it's not a build definition problem simply push up a change that resolves the issue and then the pull request will be able to be merged.)
Setting up protected branches
Now that we know what protected branches and status updated from Jenkins can do for us let's set it up. You should have run at least one build and made sure that we have registered a webhook with github before this step so we can select a status to tie the pull requests to.
go to settings in your github repo and select branches. go to protected branches and choose master from the dropdown. Finally make it look like this screen. The status you select (there should only be one if you've never done this before) should match the name you gave your Jenkins project when you set it up.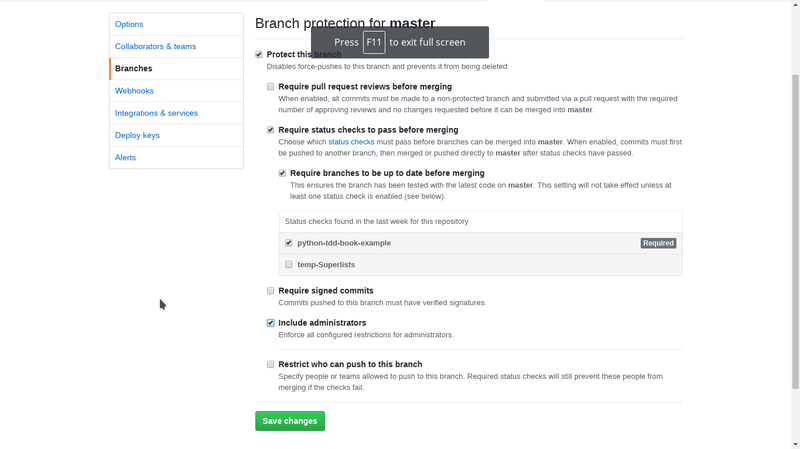 That's all I have to say about branch protection. It's quite useful and you can read more about it in the github documentation.
xUnit test reports
The last thing I have to offer for Jenkins config is giving us nice test reports when we run our tests with jenkins. This will help narrow down what happened in a failed build without looking at tons of console output. We get to see failed and passed tests in a nice little report like this: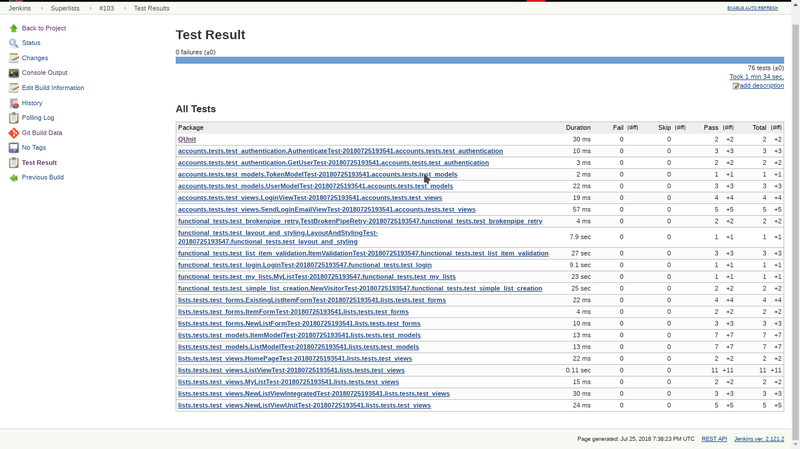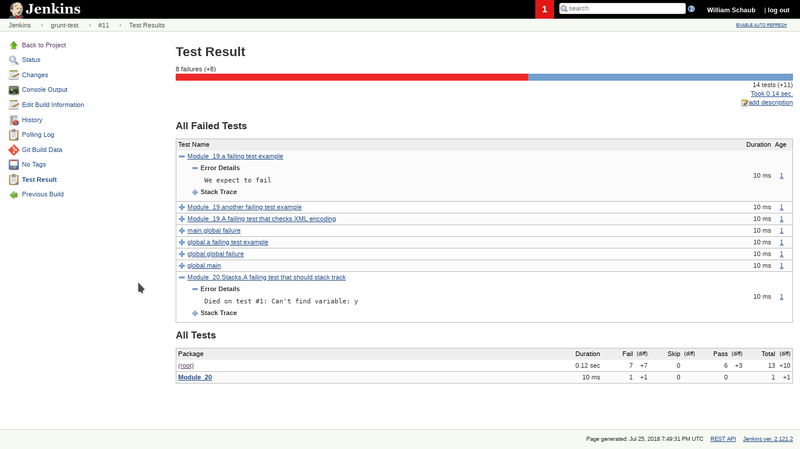 The first step is to modify our python project to create JUnit test reports: